---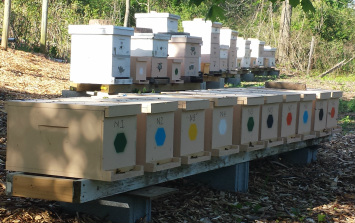 ---
Beam's Bees is owned and operated by Jesse and Heather Beam with some occasional assistance from their sons, Kyle and Zach. Located just outside of New Freedom, PA, within a 60 second bee flight of the Mason-Dixon line, we combine our love of nature with our desire to educate others about the wonders of honey bees into our business model. Even if you don't buy from us (but we hope you one day will!), we welcome the opportunity to talk to people, show them our bees, and help to develop a greater awareness and appreciation of this most-amazing creature.

Our bees are primarily a mixture of New World Carniolan, Italian, Buckfast (see note below), Russian and whatever other stock is in the area. We do not strive for purebred strains, nor can we guarantee what your bees may look like or genetic strains they may carry. Our primary focus is on producing survivor bees for our region regardless of their heritage. (We find them more interesting this way, too.) In 2015 we added some Buckfast stock from Canada. We are anxious to see how they do through the winter.

We are a Pennsylvania state registered nuc and queen producer. (We are inspected by the state at least twice yearly.) In addition, we are lifetime members of both the York County and PA State Beekeepers Associations, and strive to continuously further educate ourselves.

*Note: All photos are the property of Beam's Bees and may not be used without written permission.